Water DamageRepair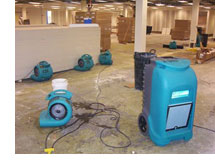 Katy Water Damage Restoration is a full service water damage restoration and general contracting company with roots going all the way back to the 1980s. We've been drying out and serving Katy homes and businesses for over twenty years!
Due to the nature of water damage, we stressed the importance of prompt service from early in our company's formation. To this day, service remains integral to our company's success. We are here to serve you! Whether your home is swamped with water or has a lingering musty odor, we do everything in our power to quickly solve the problem and minimize future damage.
We can handle any water event from start to finish. For example, if a pipe bursts behind one of your walls, not only can we mop up the damage and dry out your home, we can also repair the broken plumbing, patch the drywall, replace damaged carpets, and perform any other structural repair.
Our technicians adhere to strict standards of ethics and professionalism. Everyone who works for us is carefully screened through our rigorous hiring process to ensure that only the best, most professional people work for us. We provide continuous training and a safe, enjoyable work environment. Our company culture is focused on you, the customer. When you hire Katy Water Damage Restoration, you can rest easy knowing that your home or commercial building will be dried out promptly.